Home /
THEO - Law Firms
Law Firms
THEO - Law Firms
THEO is a cloud-based law firm management software that helps in automating all your business processes and saves you from manual, time-consuming tasks. It combines back-end and front-end processes seamlessly to streamline a wide range of tasks like matter management, client management, court diary management, updates, GST, BI reports, and many others.
THEO software helps access, archive, and save case data, case dates, time spent on clients/cases, associates' time histories, and billing and boost the overall productivity. That's why this software is a preferred choice of law firms and corporates like Jamna auto industries and Samsung.
THEO can be upgraded and customized to meet the changing demands of every firm and is appropriate for all sorts of legal practices and corporate firms. It is cloud-based and hence is accessible from anywhere at any time.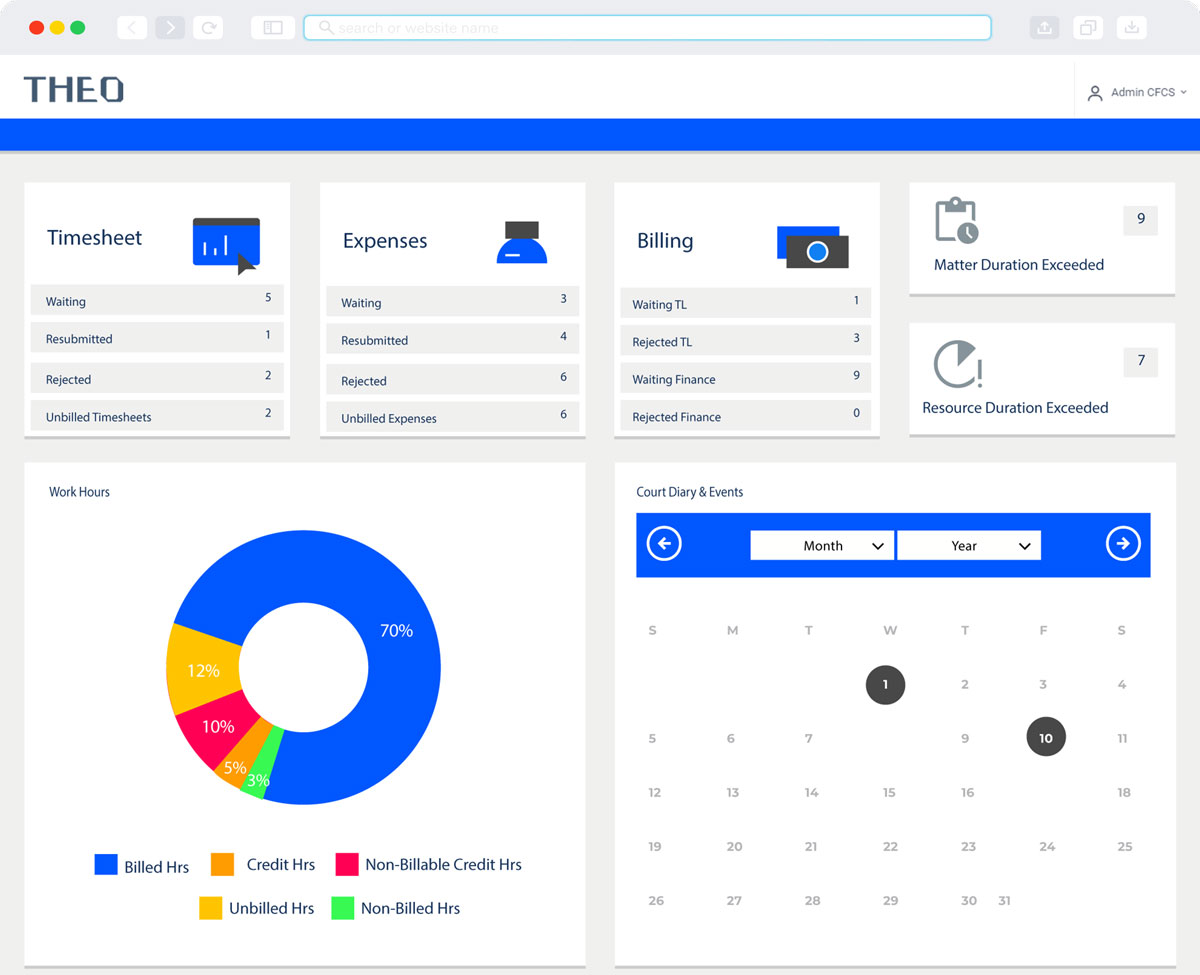 Why Choose THEO - Law Firms?
In-Software Solutions

Client Servicing and Management
THEO has the capability to archive and store client case history data as well as coordinates on contact details. These are accessible by entering either name, email or phone number.
Matter / Case Management & Updates
THEO creates a client specific ready reckoner that gives access to every aspect relating to : Case Number., related Court, Folio Number, Office File No., First Appearance Date, email communications, Updates and Last Matter Update by person name and last update , date related case files and related contact person etc.
THEO has a self-check mechanism that prevents the creation of duplicate data bases.


Time Sheet Management
All associates of law firm fill their daily time sheet activities thru the system. These activities can be related to Corporate or litigation related cases or matters. Based on their time sheet and case updates billing is initiated. This enables the performance reviews of associates based on actual numbers.
Case Expenses Management
Every Paid out expense relating to a client is logged in here for approval according to internal approval levels. These expenses could include, amongst others, court fees, stamp duty and all other miscellaneous expenses to be the collated for client billing or associate reimbursements.


Regulatory and Statutory Expenses
In Trade Mark, Patent etc there is separate provision to store government fees like Trade mark registration fees, patent fees etc.
Document Management
All the paperwork associated with a case or client can be filed and stored. THEO's capability is that these enable easy retrieval. Here you can upload heavy files also, each file can be of up to 2 GB each. There is a provision to link THEO with One Drive or Google doc etc for documents purpose.


Secure and Fast Document Sharing
THEO incorporates cloud based data storage. This enables high levels of security and data sharing or retrieval from any location. Data Access authorization can be granted at various levels or Firm hierarchy.
Mail Correspondence Manager
THEO can be a repository of emails that can be classified by either name, or case number. Emails should be cc'd to a predetermined email id. THEO's AI system reads these mails and # tag them with particular cases. So on one click you will get the list of all mails related to a particular matter.


Contact Management
THEO can work as a digitized diary that save all your contact details. These details can be Associates, employees or those pertaining to clients or cases.
Court Diary Management
THEO has an auto reminder calendar that sends you a week's schedule in advance and then reminds you on a daily basis. This is a valuable tool for reminds on court dates and any other case related appointments. If you forgot any dates then next day you will get a mail for your missed schedule.


Reminders and Group Scheduling
THEO allows creation of groups for meetings or engagements. There is no limit on the number of members in each group. Every member of a specific group will get notified either through SMS or email of the proposed event.
Invoicing and Bill Generation
Throught THEO we can do invoicing in multi-currency. Currency can be Rs, $ or € etc. Billing type of Matters / Cases can be of Hourly or event wise or retainership or fixed time contract or lumpsum. There is a provision of Draft billing and final billing.
THEO also collates all expenses pertaining to a client or case and produce a singular bill. From an MIS perspective, THEO can collate expenses under detailed heads incurred on a specific case.


Team Mates Work Performance Tracking
THEO has the capability of analysing Time/Output efficiencies of team members quantifying reports as Productive and non-productive Output, Billing hours. This information can be shared with respective team members or shared according to Firm hierarchy levels.
Mailing and Messaging
THEO has the capability of undertaking bulk or individual dissemination of SMSs or emails. This is a great time saver as all communication is just one click.

Easy Access Dashboard
THEO has a highly user friendly accessibility that allows easy retrieval of any data pertaining to your Firm's activity.
Smart Search for Document, Client and Case
THEO has a formidable data storage, archival and retrieval capability. This pertains to all the Data that your Firm would store through THEO.


Smart Mailing
THEO is your constant companion that keeps you updated through emails on nearly all aspects of your Firm's activity. It will keep you informed of Court Dates, Matter update by associates, unbilled matters, unbilled expenses and any expenses related to individuals or teams.
System Update Notification to Users
If your busy schedule has prevented you from reviewing or updating THEO, it will remind you via email or SMS that your reviews or updates are overdue.


Multi User & Multi Level Authentication
THEO is an expandable multi user multi locational software that is yet flexible enough to adapt to your Firm's requirements. User accessibility is controllable according to hierarchical needs and requirements. No Firm is small or big for THEO to handle the requirements.
Cloud Database Accessibility
THEO is equipped with centralized data base and web based technology so it is accessible across the globe and you can utilize information from anywhere either you present in any court of the World. THEO is on Private cloud and can also be available on on-premise servers.


Runs on Mobile, Tab & Modern Web Browser
THEO runs across all internet enabled web based platforms.
MIS & Smart Reports
Customer and case history, Resource performance, Billing analysis, Financial reports, Court diary.

Specification
Supported Platforms
Windows, iOS, Android, Linux
Devices
Desktop, Laptop, Mobile, Tablet, iPad
Deployment
Web-Based, Perpetual
Suitable For
Law Firms
Business Specific
Law Firm
Language
English
Schedule a Free Demo
Access our guide and discover everything your
company needs to become compliant.
Schedule Now